Dan 'The Wreck Man' files motorcycle claims, including liability & first-party injury claims. Let's explore them together in this article.
What Is a Liability Claim / Motorcycle Claim?
You file a motorcycle claim / a liability insurance claim with the carrier for the at-fault party, i.e. the operator of the motor vehicle that hit you.
If the driver of the automobile that hit you did not have a driver's license, you may be able to file a motorcycle claim against them for negligently entrusting said vehicle to an unlicensed or incompetent driver.
In addition, if the at-fault party was in the course and scope of his or her employment, you can file a liability claim against that person's employer under the recognized doctrine of Respondent Superior.
What First-Party Claims Are Involved in Motorcycle Accident Injuries?
First-party insurance claims refer to motorcycle claims filed directly with your own insurance company or the vehicle owner's insurance company. These claims may include:
PIP ("Personal Injury Protection") Claims
This type of insurance provides "no-fault" coverage for reimbursing medical expenses and lost wages. (Keep in mind that you should be provided with PIP coverage of $2,500.00 unless you have signed a waiver for this coverage.)
Med-Pay Claims
Similar to PIP claims, but the insurance carrier is entitled to offset the amount if you receive compensation from a third-party.
UIM Claims (underinsured motorist claims)
To recover UIM damages, you must first obtain a policy-limits offer from the insurance carrier of the at-fault party. You are entitled to this coverage up to $30,000.00, unless you have waived it by signing a document. (Remember: You need permission from your insurance company to accept a policy limits settlement offer from the liability carrier; failing to do so could result in denial of coverage under your own policy.)
Uninsured Motorist (UM) Claims
A UM claim, also known as an uninsured motorist claim, comes into play if the person who hit you did not have the required insurance as mandated by law. (Note: In the case of a "hit-and-run" situation, it is crucial that the at-fault party made actual physical contact with your motorcycle or person; otherwise, coverage is likely to be denied.
However, in the context of a liability claim, no physical contact is necessary. For example, if a driver veered into your lane and you had to lay your bike down to avoid a collision, you can still pursue damages against the negligent driver.)
What Are the Minimum Liability Limits in a Texas Motorcycle Accident Case?
In Texas, motorists must carry at least $30,000 per person / $60,000 per accident liability limits. Furthermore, it is common for the at-fault vehicle to possess significantly higher coverage limits of $250,000 per person / $500,000 per accident or higher.
For instance, if both you and a passenger sustain injuries in the same motorcycle collision and the at-fault driver's policy limits are $30,000 per person / $60,000 per accident, the insurance policy would only provide a maximum of $30,000 to each individual and a total payout of $60,000 for the liability carrier. This limit applies even if, for example, one of you suffered multiple bone fractures in the accident.
Identifying all available sources of insurance coverage is critically important. To safeguard your legal rights, Our motorcycle accident lawyers at Dan 'The Wreck Man' will promptly file all potential motorcycle claims and pursue any additional claims that may be accessible at the beginning of your case. Additionally, Dan 'The Wreck Man' conducts asset searches on at-fault drivers who possess low liability limits, because they may have assets that can be pursued in addition to the available insurance funds.

How to get your Motorcycle Repaired or Replaced quickly?
Is it OK to Use the Body Shop the Insurance Company recommends?
Never. The liability insurance carrier recommends their body shop for a reason; however, they generally charge the insurance company less for repairs, do not utilize the best available parts, or have the most qualified mechanics.
The primary motive behind this recommendation is that the liability insurance company wants to keep the property damage as low as possible. Their intention is to argue later that you were not injured, as exemplified by their property damage denial: "There was only $750.00 in damage to the motorcycle. How could you be injured?"
Instead, exercise your right to choose the repair facility for your motorcycle. Choose either the dealership where you purchased it or a qualified service facility you select. Take control of the situation by deciding who repairs your vehicle.
Were you provided with a rental car?
Yes, but usually only if your motorcycle can be repaired. If your motorcycle has been totaled, you will likely not be entitled to a rental vehicle from the at-fault party's insurance carrier. However, you could have rental coverage on your own policy that would be applicable.
Dan The Wreck Man assist you in obtaining a rental vehicle?
Dan The Wreck Man routinely helps clients obtain a rental car while the liability carrier for the at-faulty party determines whether your motorcycle is a "total loss".
Can you claim your motorcycle has diminished in value because of the accident?
Absolutely! This typically requires obtaining an expert to establish the amount of diminished value. The Wreck Man routinely advances money to clients to help establish diminished value if the diminished value is significant.
What if your motorcycle has been totaled?
If your motorcycle is deemed a "total loss" by the at-fault party's insurance carrier, or your own insurer, you are entitled to recover the fair market value of your vehicle or damages equal to what similar motorcycles are being sold for on the open market. This is not measured by KBB or NADA.
Motorcycle Claim: Establishing Non-Economic Damages
Can you recover non-economic damages, like pain and suffering?
If you were injured in a motorcycle accident, you may also be entitled to the following non-economic damages:
Past and future pain and suffering;
Past and future mental anguish;
Past and future physical impairment; and
Loss of consortium.
The damages listed above pose difficulty in quantification. One can never predict the type of jury that might be selected. Unlike the calculation of medical bill damages, which is straightforward, it is impossible for any lawyer to definitively state the precise amount a jury would grant for the aforementioned damages due to the potential variation caused by multiple factors.
In evaluating cases, Dan 'The Wreck Man' actively monitors recent verdicts. Moreover, our law firm possesses a 20-year track record, enabling us to assess cases by considering previous similar instances with comparable injuries. Our attorneys are dedicated to passionately advocating for non-economic damages and will collaborate with you to establish the central theme of your injury/motorcycle claim.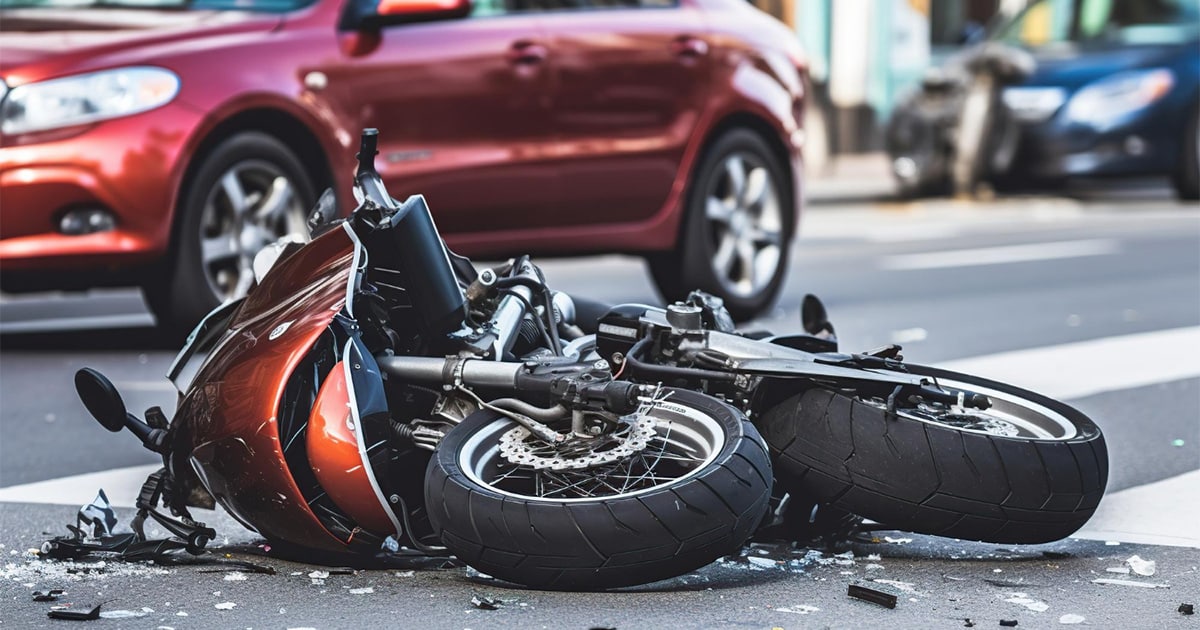 Motorcycle Claim: Proving Economic Damages
Can you recover damages for lost wages?
Yes. It is imperative, however, that these damages be "proved-up" or established by a preponderance of the evidence. Dan 'The Wreck Man' can provide you with documents to give to your employer to assist you in establishing your lost wages.
Can you recover damages for future lost wages?
Certainly, such compensation is commonly known as loss of earning capacity. Dan 'The Wreck Man' frequently engages economists, vocational rehabilitation consultants, or a combination of both, to assist clients in substantiating past lost earnings and projecting future loss of earning capacity.
Are you potentially entitled to any other economic damages?
If you were injured in a motorcycle accident, you might also be entitled to these additional economic damages:
Past medical expenses ("Reasonable and Necessary");
Future medical expenses ("Reasonable and Necessary");
Motorcycle repair cost;
Replacement motorcycle cost; and
Diminished value to your motorcycle.
The Dan The Wreck Manattorneys utilize Life Care Planners on traumatic injury cases when necessary. We front this expense for you to help establish the necessity of life-long accommodations as a result of the injuries you sustained.
Punitive & Exemplary Damages
Exemplary damages, better known as punitive damages, are difficult to obtain but are meant to punish at-fault parties. Punitive damages require a finding of gross negligence or recklessness.
Some situations where punitive damages could be argued and/or awarded include:
If the Defendant was drinking and drivingand/or intoxicated;
If the Defendant hadn't slept for an extended period of time;
If the Defendant was on his cell phone and excessively speeding;
If the Defendant was racing another vehicle; and
Any other situation in which the Defendant was reckless or grossly negligent.
Contact Dan 'The Wreck Man' – Dallas Motorcycle Accident Lawyer Today
Our Dallas motorcycle accident lawyers take pride in representing men, women, and children injured in motorcycle crashes across Dallas and Texas for their motorcycle claims.
Dan 'The Wreck Man' knows how hard it is for motorcycle accident victims to get back on their feet after being injured, and we know how important it is for you to get the justice and motorcycle claims you deserve so that you can move on with your life.
Call Dan 'The Wreck Man' – Dallas Motorcycle Accident Lawyer at 888-2-WRECKMAN.