Dan 'The Wreck Man' and his skilled team answer questions about car accident claims and related events. Let's check them all together!
How long after my accident do I have to file a lawsuit?
It is in your best interest to contact a knowledgeable personal injury attorney as soon as possible after your accident. Evidence needs to be collected and preserved. Witness statements should be taken while the incident is fresh in the minds of the witnesses. Furthermore, the law imposes a time limit for filing a personal injury & car accident claim (known as a statute of limitations). In Texas, it is two years from the date of the accident.
When you work with our firm, we are prepared to investigate your accident to determine who was at fault and to pursue a car accident claim for compensation against the responsible party aggressively. Contact Dan 'The Wreck Man' today to schedule a free case evaluation with no obligation.
Call Dan 'The Wreck Man' at Call (972) 245-5432888-2-WRECKMAN or submit your case. Dan Moore has many happy client testimonials, and many Google 5-star reviews – check them out!
What damages can I recover in a car accident case?
Each car accident is different. You should consult with a knowledgeable car accident attorney to find out what damages you may be able to recover from the negligent party responsible for your accident and injuries. Depending on the circumstances in your particular case, among other losses, you may be able to recover compensation for:
Medical expenses
Lost wages
Pain and suffering
Property damage
Impairment
Disfigurement
Punitive damages (in some cases)
Punitive damages are designed to further punish the defendant for wrongs committed, in addition to compensation for the victim's losses. These types of damages may or may not be allowed, depending on what the driver did or failed to do that caused the accident.
What is negligence in a car accident?
In order to establish that the other driver in a car accident was negligent, that driver's actions or failure to act must be shown to have caused the accident that resulted in your injuries. In order to establish negligence, an accident victim must show that:
The driver had a duty
That duty was breached
The breach of duty caused the accident and injuries
Damages were suffered as a result.
If the driver failed to use ordinary care – the level of care that a reasonable person would have used under the same circumstances – a breach of duty occurred. While operating a motor vehicle, we all have a duty to use ordinary care for the safety of other motorists.
The following are some examples of ways that drivers can be negligent:
Following too closely
Driving too fast
Driving too slow
Failure to yield the right-of-way
Failure to obey traffic signals or signs
Driving in an impaired state
Distracted driving, such as texting or talking on cell phones.
What types of compensation can I recover?
If you have been seriously injured in a car accident caused by the negligence of another driver in Texas, you may be entitled to seek compensation for your medical expenses, physical pain, mental anguish, any disfigurement caused by scarring or loss of limbs, reduced ability to earn income, or loss of marital relations.
When should I hire an attorney after a car accident?
If you have been seriously injured in an accident caused by another driver you should seek an injury attorney IMMEDIATELY.
Also, if you have significant medical bills, or if you are having trouble getting your own auto insurance company to honor an uninsured motorist insurance policy, you should have a knowledgeable car accident attorney review the specific facts and explain your legal options.
If we determine that you have a valid personal injury & car accident claim, our attorneys can help you pursue compensation.
How long do I have to file a car accident claim after a car accident in Texas?
Every state sets time limits for filing a lawsuit if you have been injured in an accident. If you have been injured in a car accident in the Lone Star State, Texas law allows two years from the date of the accident to file a personal injury lawsuit to recover compensation. Because of the amount of time it takes to investigate an accident and prepare a lawsuit, it is important to contact a knowledgeable accident lawyer as soon as possible.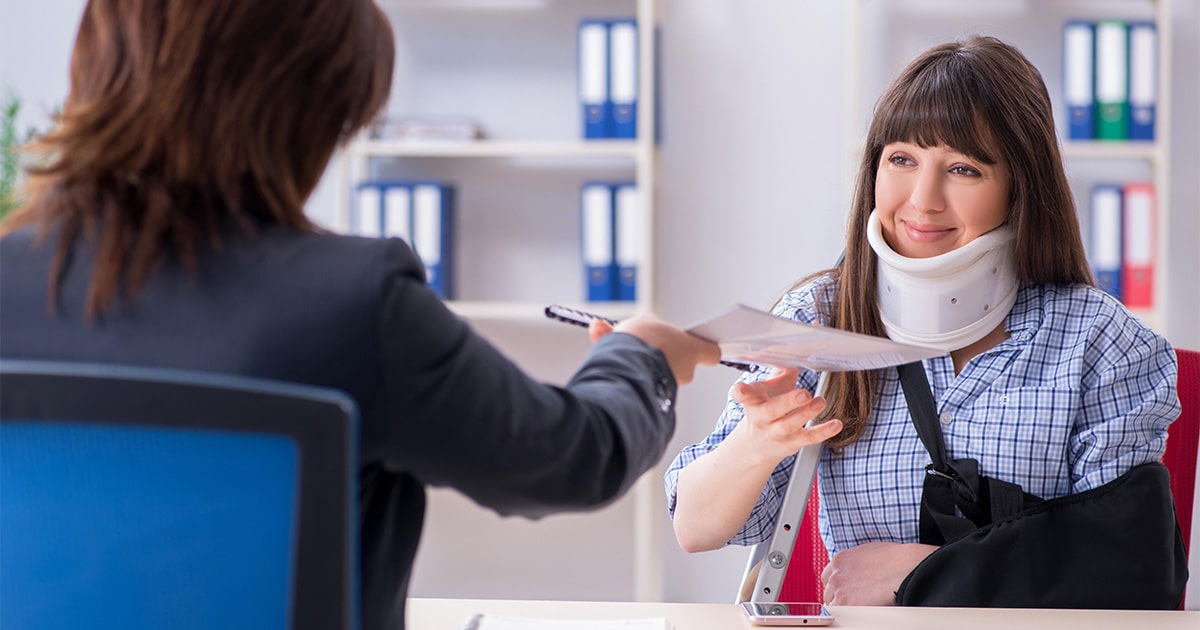 How much does it cost to hire a car accident attorney?
Our car accident attorneys take cases on a contingency fee basis. A contingency fee arrangement allows people who have been injured in accidents to obtain legal representation without having to pay money up front. If our attorneys are successful in pursuing a settlement or verdict on your behalf, we would then be paid an agreed upon share of any settlement or verdict received.
Does my attorney deal with the insurance companies?
Our experienced car accident attorneys deal with the insurance company representing the at-fault driver and try to negotiate a fair settlement. We deal with insurance adjusters and insurance company lawyers so that you can focus on recovering your health and family.
How will I pay my medical bills if I can't work after a car accident?
In serious injury cases, The Law Office of Dan Moore, we can provide loans to clients to cover their living expenses while we pursue personal injury & car accident claims on their behalf. We also provide a pharmacy discount card to clients to help reduce the cost of their prescription medications. Our accident attorneys are committed to helping clients get back on their feet after a serious accident caused by negligence. Call to see if your case qualifies.
What if I was partially at fault? Am I eligible for compensation?
Yes, you may still be eligible to receive compensation even if you were partly at fault, but it may reduce the amount you can recover. Texas applies a modified comparative fault rule to personal injury cases in which multiple drivers are at fault. If the court finds that you are partly at fault, you may still be eligible to recover damages as long as you are no more than 50 percent at fault.
The amount of compensation that you would be eligible to recover would be reduced by a percentage equal to your degree of fault. For example, if a court found that you were 25 percent at fault for an accident and the court awarded $100,000 in damages, you would be eligible to receive $75,000.
The driver who hit me doesn't have insurance. Can I still file a car accident claim?
If the at-fault driver who hit you does not have auto insurance, you may file a car accident claim on your own uninsured/underinsured (UM/UIM) motorist policy. The Texas Department of Insurance requires that UM/UIM coverage must be offered as part of every automobile liability policy sold in Texas to protect drivers from damages caused by motorists who do not have insurance.
Unless you specifically declined UM/UIM coverage, it is likely that your auto insurance policy protects you from damages caused by uninsured and underinsured drivers. If your insurance company disputes your uninsured motorist claim, have our experienced car accident lawyer review your accident to determine if we can help you.
My child was injured in a car accident caused by the teenaged driver he was riding with. What can we do?
You may have a car accident claim against the teenage driver and his or her auto insurance provider for injuries caused to your child in the accident. If the auto insurance coverage on the vehicle that the teenager was driving was in the name of the teen's parents, you may possibly have a car accident claim against that insurance company.
It is important to identify all the potentially responsible parties after an accident to maximize the compensation that an accident victim can seek. Those are the kinds of issues that a car accident attorney will research as part of preparing a car accident claim.
How Can I Afford My Medical Expenses if I Am Out of Work Due to an Injury?
If you are unable to work as a result of an injury and we are handling your personal injury case, we may be able to loan you money to pay your expenses if necessary. We are committed to helping our clients receive all the medical care necessary to recover from a serious injury. Through a personal injury & car accident claim you may have a legal right to seek compensation for your medical bills and other expenses if someone else's carelessness or negligence caused your injuries.
While pursuing a claim on your behalf, our attorney can contact the hospital that treated you and your other healthcare providers and inform them that you are pursuing a personal injury & car accident claim. Many healthcare providers are willing to hold off on any billing collection efforts if they understand that litigation is in process and they will be paid eventually.
How Can I Afford to Pay for a Lawyer?
You have no upfront legal fees if a personal injury attorney at The Law Office of Dan Moore, represents you. A car accident attorney at The Law Office of Dan Moore, will handle your injury case on a contingency fee basis. We will advance all the costs of pursuing compensation from the at-fault parties for your injuries.
You will not owe us any money unless we successfully obtain compensation for you through a negotiated insurance settlement or a jury award. If we have success in securing money for you, then we would take a portion of the settlement as payment for our legal services and expenses. If we do not win money for you, you will not owe a legal fee.