Commercial Vehicle Accidents in Carrollton, TX, commonly occur and result in serious injuries and deaths each year.
Resources for the Injured of Commercial Vehicle Accidents in Carrollton, TX
After a Carrollton crash, injured people and their families need resources and support. Regardless of the severity of the collision, the people involved are left to deal with injuries, medical bills, property damage, and insurance claims. When a Carrollton accident is fatal, families are left to struggle with their grief and loss as best they can.
Regardless of whether it is a car accident, pedestrian accident, motorcycle crash, bicycle collision, truck accident, or any other kind of injury accident, the following resources can be helpful for crash victims and their families and friends.
Major hospitals in Carrollton include Methodist Hospital for Surgery.
How Do You Deal With an Insurance Claim After a Commercial Vehicle Accident in Carrollton?
Regardless of how severe an accident is, almost everyone involved has to deal with insurance companies and claims. For accidents with very minor injuries and damage, a claim can sometimes be handled by working with the insurance adjuster.
For commercial vehicle crashes involving more serious injuries, or when a fatal accident occurs, a personal injury attorney is needed to manage the insurance claim. Learn more about how a Carrollton injury lawyer Dan 'The Wreck Man' Moore helps commercial vehicle accident victims.
Get a Carrollton Injury Attorney That Handles All the Details so That You Don't Have To.
After commercial vehicle accidents in Carrollton TX, there are many issues that need to be handled immediately. Dealing with doctors, repair shops, car rental companies, police, and insurance companies is overwhelming, especially when someone is seriously injured. At this point, many injured people choose to hire a Carrollton personal injury attorney whose job is to handle the details and paperwork so they can focus on recovery.
What Types of Accidents and Injuries Does a Carrollton Personal Injury Lawyer Help With?
When you or someone you know is seriously injured or killed in commercial vehicle accidents in Carrollton, TX, it is important to get help from an experienced personal injury attorney. A good accident lawyer works with injured clients to get maximum financial compensation for accidents and injuries including:
Where To Find Legal Assistance After a Carrollton Injury Accident?
After a serious crash, it is crucial to get help from an experienced Carrollton personal injury lawyer who understands the local regulations and legal standards, who knows how insurance policies work, and who can handle all aspects of an insurance claim so the injured person can focus on recovery.
If someone is killed in a collision, a wrongful death attorney will launch a claim that will begin the process of financial recovery for the family members left behind. If you were injured in a wreck, learn more about how an experienced attorney for Commercial Vehicle Accidents in Carrollton, TX can help you now –
Call Dan 'The Wreck Man' at Call (972) 245-5432888-2-WRECKMAN or submit your case. Dan Moore has many happy client testimonials, and many Google 5-star reviews check them out!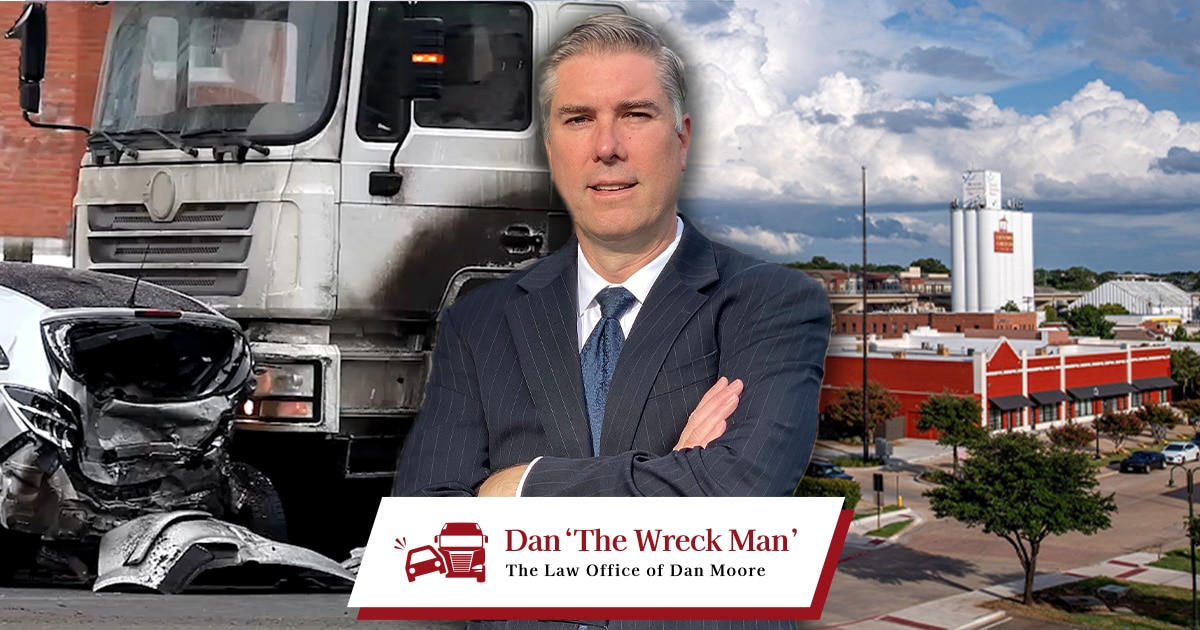 Get To Know Dan 'The Wreck Man'
At The Law Office of Dan Moore, Dan "The Wreck Man," an experienced attorney for commercial vehicle accidents in Carrollton, TX, has been fighting for victims of car accidents since 2010. Insurance companies work hard to minimize compensation to victims. Dan Moore "The Wreck Man" takes pride in being a top expert at navigating the often confusing legal and insurance process to ensure our clients receive the full compensation they deserve.
If we go forward with your case, we'll assign you a full legal team, as well as 24/7 open communication with us via mobile and our website. We never charge by the hour — we get paid only if we win. Our results are not guaranteed, but past performance may be an indication of future success.